HUNTING LODGE - 1982-1989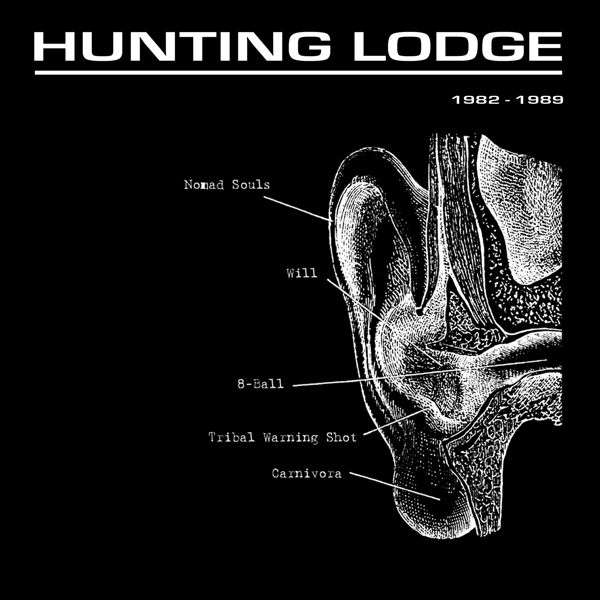 Best Of incl. 2 versions of "Tribal Warning Shot"; for fans of: S.P.K., THROBBING GRISTLE, early...
mehr
Produktinformationen "HUNTING LODGE - 1982-1989"
Best Of incl. 2 versions of "Tribal Warning Shot"; for fans of: S.P.K., THROBBING GRISTLE, early LUSTMORD , 6 Page Eco Digifile, lim 400 copies ; all tracks were remastered, label: Dark Vinyl 2017
Tracklisting: 1. Tribal Warning Shot (Studio) / 2. Exhumed Era Outtake / 3. 8-Ball / 4. The Wolf Hour / 5. Night From Night / 6. Pressure Press / 7. Rhythm Cage / 8. Rip You To Shreds / 9. Dark Night Of The Soul / 10. Carnivora! / 11. Atum / 12. May This Meat Kill Me / 13. Tribal Warning Shot (Live in Chicago) / 14. Banishing Dirge
HUNTING LODGE can be seen as one of the few real "Industrial " pioneers in the early 80`s (beside SPK, LUSTMORD, THROBBING GRISTLE ..) Hunting Lodge 1982 – 1989 represents the "song oriented" side of a band that evolved relentlessly throughout its 8 years of existence. Incl. the remastered / restored version of the legendary underground club hit: "Tribal Warning Shot"
Lon C. Diehl & Richard Skott met in Port Huron, Michigan, a "rust belt" town bordering Canada, in 1981, and quickly bonded over their fascination with the music of T.G., SPK, M.B., and Dome. The duo, having previously been involved in separate musical projects, decided to join forces and Hunting Lodge was born. Joined by Karl Nordstrom, the trio mixed synthesizers, bass, metal & electronic percussion, time-shifting effects, and vocals into a dark sonic stew.
Nordstrom moved to San Francisco after the recording of the first Hunting Lodge release, the cassette-only At The Harrington Ballroom (1982). Diehl now employed a Roland Synth, Sequencer & 808 drum machine. Skott added his guitar to the musical arsenal, which he used to trigger a Korg MS-20 synth and a vocoder. Diehl and Skott continued recording at a feverish pace, and their first LP, WILL (track 14) was released in 1983.
"Tribal Drums" and primitive digital sampling units soon entered the picture. On the Nomad Souls LP (4, 7) and Tribal Warning Shot 12" (1, 13), rhythm and percussion were driving many of the recordings. Richard Skott moved to Oakland, CA at the end of their first U.S. tour, November 1984. When he returned the following year, Diehl had begun using a keyboard sampler / computer sequencer extensively, composing tracks that would make up their 3rd LP.
The third wave of Hunting Lodge brought a new engineer to the band: Helmut Robison recorded the album 8-Ball (3, 6, 9, 12) & Carnivora! EP (5, 10) and played drum kit and bass on many of the recordings (as well as "live"). Upon his return, Skott's guitar had shed its heavily-affected electronic exoskeleton and Hunting Lodge began to mimic a traditional "rock" band, while retaining their "Industrial" roots.In 1989 Diehl & Skott recorded their final demos (8, 11). Soon thereafter Diehl abruptly quit creating music and Hunting Lodge was disbanded.
Weiterführende Links zu "HUNTING LODGE - 1982-1989"