SCHACHTANLAGE GEGENORDER / DENISE RITTER - Aufgelassen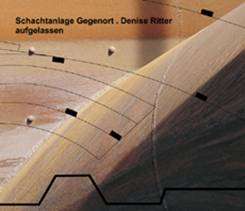 label: HANDS, November 2010 Short Product Info : ...
mehr
Produktinformationen "SCHACHTANLAGE GEGENORDER / DENISE RITTER - Aufgelassen"
label: HANDS, November 2010
Short Product Info :
- Auf dem 4. Release von Denise Ritter aka Schachtanlage Gegenort trifft experimenteller Industrial tauf Noise und Elektroakustik vom Feinsten.
- Denise Ritter, Trägerin des Deutschen Klangkunstpreises 2010 komponiert seit ihrem legendärem Debut Einsatzstoffe & Energie (1997) elektorakustische Musik mit industriellen Geräuschen aus Bergwerken, Stahlwerken sowie Sprachaufnahmen
- Hämmerde und röhrende Maschinensounds aus Schächten, Bergwerken, Walzwerken und Eisenhütten verschmelzen zu einer Melange aus intensiven, harschen und geheimnisvollen Rhythmen und Soundwällen.
Soundartist Denise Ritter aka Schachtanlage Gegnort has been doing her electroacoustic sound art since 1997, composing industrial noise music by recording sounds of the coal and steel industry and coal-mining. On 'Aufgelassen' she creates a blend of darkness and mystery, creating pulsating sound worlds by using the recordings of industrial sounds of pounding machines, voice samples of steel workers, sounds of steel, stone and delay rooms. Most recordings were made deep under Earth in mines or steel-mills. Those sound worlds have on one hand organic structures, on the other hand mechanical structures, in total 'aufgelassen<' offers quite various yet exciting, deep and almost mysterious atmospheres. Denise Ritter studied sound art in Saarbrücken and has performed throughout the last years many sound installations and sound sculptures all over Europe. In 2010 she won the Deutschen Klangkunstpreis.
Her self-released albums 'Einsatzstoffe & Energie' (1997) and 'Erzengel' (1998) became milestones of post industrial music, and after her release '41 Jahre ' (2005) on HANDS, here is her second album for the label.
Tracks:
01 La Mine 02 St. Charles 03 Alter Mann 04 Grubenbahn 05 Südkai 06 Km 58,8 07 Saarhafen 08 Schachtwasser 09 Dillinger 10 Minette 11 Nordschacht 12 Konverterhalle 13 Site Kazebierg
Weiterführende Links zu "SCHACHTANLAGE GEGENORDER / DENISE RITTER - Aufgelassen"