WE BE ECHO - Ceza Evi - Compleat Edition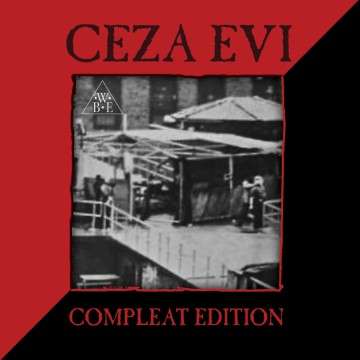 label: Cold Spring, July 2022, file: Industrial , for fans of : T.G., Cabaret Voltaire...
mehr
Produktinformationen "WE BE ECHO - Ceza Evi - Compleat Edition"
label: Cold Spring, July 2022, file: Industrial , for fans of : T.G., Cabaret Voltaire
label-info:
Occupying a halfway point between Throbbing Gristle and Cabaret Voltaire without ever quite sounding like either, We Be Echo is Kevin Thorne.

Thorne's first foray into music came after a chance meeting with Throbbing Gristle on Tottenham Court Road in 1979. A few months later he met Raye Calouri at the legendary Throbbing Gristle / Cabaret Voltaire / Rema Rema gig at Central YMCA, London. Soon after, the duo formed the short-lived Third Door From The Left. After the demise of TDFTL, Thorne formed We Be Echo.

The debut album "Ceza Evi" - featuring GENESIS P-ORRIDGE and IHAM on Tibetan Thigh-bone Trumpet - was released in June 1983, followed by a special edition later the same year, originally available only to readers of Nanavesh.

The music was recorded using the built-in microphone on a dual cassette recorder, then the next layer was recorded whilst playing the first tape back. Very lo-fi, no editing, no remixing, all spontaneous and raw. As with Third Door From The Left, who recorded in the same way, it all just seemed to fall into place.

Compleat Edition: Disc one contains the original tracks for the "Ceza Evi" special edition release. The remaining tracks on disc 2 are from the original cassette release of "Ceza Evi", plus bonus tracks recorded between 1981-1983. Briefly pushing We Be Echo back into the light, a handful of these tracks appeared on the 2009 compilation "Decades" (Vinyl On Demand). Now, bringing together all these tracks for the first time ever, this "Compleat Edition" cements "Ceza Evi" as one of the most important underground releases of the early 80's. To do it real justice, this release was mastered by Attrition's Martin Bowes.

Presented in a 2CD in a 6-panel digisleeve with artwork by Kevin Thorne.

"We Be Echo, as represented on the bed-wettingly fine Cesa Evi cassette, were a musical refinement of the organised chaos of TDFTL. The rhythm programming shows an increased complexity, lending tension to the bass and keyboard components. In place of vocals there are deftly-manipulated speech recordings, providing a thematically provocative narrative to the tracks. Speech and sounds are juxtaposed, edited and repeated, in or out of context, to great effect. Many others have tried similar things (often with access to superior equipment) but few succeed so well as We Be Echo... if you have an inquiring mind and a discriminating ear they are worthy of your attention. In particular the quality and sophistication of this music" (The Sound Projector).

Tracks: CD1: 1. Sexuality (2:43) | 2. Punish You (2:35) | 3. No Going Back (1:23) | 4. Dawn (5:02) | 5. Dull Day (1:25) | 6. Cave Dweller (2:59) | 7. Inside Life's Wire (Featuring: Genesis P-Orridge, Iham) (3:30) | 8. After The Battle (5:45) | 9. Communication (3:40) | 10. This Hour's Mine (4:05) | 11. I Want (2:07) | 12. Breakdown (3:13) | 13. Paranoia (1:20) | 14. House Of Punishment (2:13) | 15. Who You Are (2:17) | 16. Bright Sheets (3:16) | 17. I Do (4:12) | 18. Thee Shout (Featuring: Iham) (6:34)
CD2: 1. Death Row (3:01) | 2. A New Day (4:45) | 3. I'm A Gambler (2:57) | 4. It Was You (5:11) | 5. Micro Penis (2:36) | 6. Dirty Harry (3:50) | 7. Survivalists II (4:27) | 8. Knechtschaft (2:16) | 9. Got You (3:34) | 10. Manson (3:28) | 11. Kick (4:38) | 12. Seven Seasons (4:01) | 13: Loathing (3:47) | 14. Breakdown Reprise (3:18)
Weiterführende Links zu "WE BE ECHO - Ceza Evi - Compleat Edition"