THE RESIDENTS - presents Delta Nudes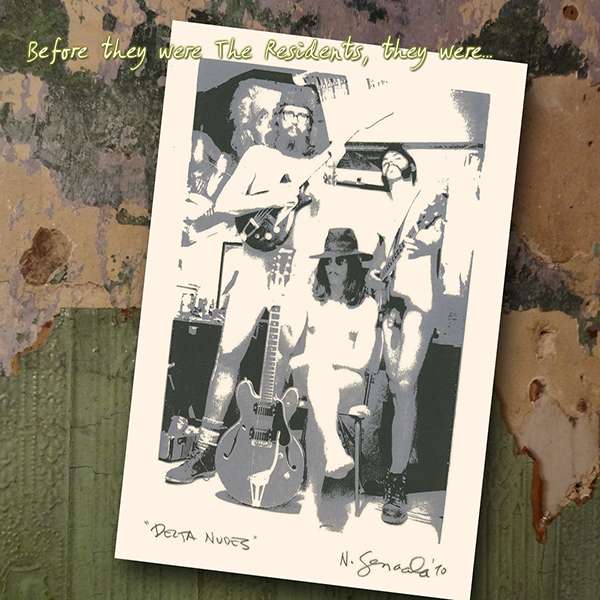 label: Klanggalerie, Oktober 2016; reissue, remastered and with 3 Bonustracks label-info:...
mehr
Produktinformationen "THE RESIDENTS - presents Delta Nudes"
label: Klanggalerie, Oktober 2016; reissue, remastered and with 3 Bonustracks

label-info:
Bevor THE RESIDENTS die Residents wurden, waren sie eine Gruppe von Freunden in der San Francisco bay Area. Auf dieser Musiksammlung sind die verschiedensten Leute vertreten. Niemand weiss mehr, wie viele oder wer sie waren. Die Aufnahmen wurden in den späten 60er Jahren und frühen Siebzigern gemacht. Manche der Leute wurden später die Residents, manche nicht. Vier Alben wurden von diesen Pre-sidents aufgenommen. Das Warner Bros. Album, Baby Sex, The Ballad of Stuffed Trigger und Rusty Coathangers fort he Doctor. Keines davon wurde je offiziel veröffentlicht. Nun endlich kann man auf dieser Kollektion Musik dieser frühern Inkarnation der Residents hören. Die Cryptic Corporation veröffentlichte eine erste Version dieser CD 2013 in einer Mikroauflage von nur 300 Stück. Sie war sofort ausverkauft. Klanggalerie freut sich nun, eine neue und remasterte Version zu präsentieren – mit 3 zusätzlichen Bonustracks und einem neuen Front Cover von Pore Know Graphics!
Before The Residents became the Residents, they were a group of friends from the San Francisco bay area. On this collection, a lot of different people are involved. No one remembers how many or who they were. The recordings were made in the late 1960s and early 1970s. Some of the people bonded into The Residents. Some of them did not. Four albums were released by these Pre-sidents: The Warner Bros Album, The Ballad of Stuffed Trigger, Rusty Coathangers for the Doctor and Baby Sex. None of them have ever been released. Now finally, on this collection, you can hear music from those pre-Residential days in remastered quality. The Cryptic Corporation released a first version of this album in 2013. The limited edition of only 300 copies sold out immediately. Now, Klanggalerie are proud to present you a new and remastered version of this CD - with the addition of three bonus tracks and a new front cover Pore No Graphics!
Track list:
1. Sokhura
2. Deep Sea Diver Song
3. Moonman
4. Every Day I Masturbate On A Merican Fag
5. Aircraft Damage
6. Baby Skeletons And Dogs
7. The Mad Sawmill Of Copenhagen, Germany
8. I Hear Ya Got Religion
9. Number 1
10. Blow Bluesy Balloon
11. The Ballad Of Stuffed Trigger
12. Goodbye Lover
13. Overday
14. King Kong
15. Maggie's Farm
16. Party Of '71
17. D Is For Doorknob
18. Hallowed By Thy Ween
Weiterführende Links zu "THE RESIDENTS - presents Delta Nudes"