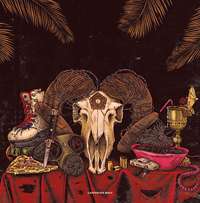 label: NRP, February 2017, 8-panel 3CD digipack-set, digipack At first glance, Carpenter...
mehr
Produktinformationen "CARPENTER BRUT - Trilogy"
label: NRP, February 2017, 8-panel 3CD digipack-set, digipack

At first glance, Carpenter Brut's influences are 80s TV shows, B movies loaded with synthesizer music. Listening to his home made EPs, however, one would rather bet on a black metal background, a crush for Dario Argento and a force-fed religious education. This would explain his satanic mood, his passion for kitsch sounds and his adoration for all kinds of enjoyment. Whatever his influences, Carpenter Brut does not lack the talent to create in-your-face vintage killer tracks. Trilogy comprises of Carpenter Brut's self-released EP trilogy and is presented in a slick 8-panel 3CD digipack-set and triple gatefold vinyl sleeve with killer artwork designed by France's most notorious design-duo Førtifem. The first press of both CD & vinyl sold out in no time with the vinyl edition setting a new label record: all units were spoken for in 12 hours time. Even before the last copy was mailed out, a call for a repress was expressed by a large number of Carpenter Brut's fanbase. In true Brut fashion, the artwork for the vinyl repress underwent subtle changes to reflect the months gone by. 01. Escape from Midwich Valley
02. Disco Zombi Italia
03. L.A. Venice Bitch 80's
04. Wake up the President
05. 347 Midnight Demons
06. Le Perv
07. Roller Mobster
08. Meet Matt Stryker
09. Obituary
10. Looking for Tracy Tzu
11. Sexkiller on the Loose
12. Hang'em All
13. Division Ruine
14. Paradise Warfare
15. Run, Sally, Run!
16. Turbo Killer
17. Anarchy Road
18. Invasion A.D.
Weiterführende Links zu "CARPENTER BRUT - Trilogy"