AND ALSO THE TREES - Born into the Waves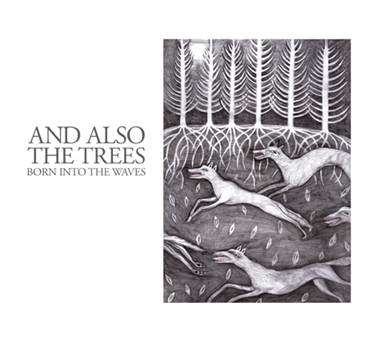 label: AATT, April 2016 label-info: 'Born into the Waves' is the thirteenth studio album...
mehr
Produktinformationen "AND ALSO THE TREES - Born into the Waves"
label: AATT, April 2016

label-info:
'Born into the Waves' is the thirteenth studio album from the infl­uential cult British band!
Inspired by the band's recent concerts in previously unvisited countries - Ukraine, Romania,
Lithuania and Japan – 'Born Into the Waves' evolves from four pieces composed by guitarist
Justin Jones on the theme of love songs from around the world. Following the recent success
of acclaimed albums 'Hunter not the Hunted' and '(Listen for) the Rag and Bone Man', the new
album encompasses a new spirit of optimism and liberation in the lyrics of vocalist Simon Huw
Jones.
"Th­ere are no traditional loves songs here but love, as an emotion and a force is at the core
of the album and threads through the songs - light and dark, energizing and destructive - th­e
sense of travel and place‑was also important as it helped us explore loves' more diverse nature
especially that as an opposing power to hate".
In their 35th year, And Also the Trees continue to evolve and break new creative ground. In
2015, Justin worked with Marc Almond playing guitar on a track from his album 'The Dancing
Marquis'. Drummer Paul Hill recently performed with the internationally known German multi-
media artist John Bock at Frieze Art Fair, London. Simon collaborated with French composer
Olivier Mellano, providing lead vocals on the '13 guitars' version of his 'Orchestre symphonique
de Bretagne' commissioned epic. Simon is also nearing completion of the second 'November'
album with Bernard Trontin of Swiss legend The Young Gods.
'Born into the Waves' also features guest vocalist Adam Sherry from 'A Dead Forest Index',
direct from their Savages and Chelsea Wolfe tour slots.
And Also the Trees' connection with The Cure was recently revived when Robert Smith, a long
time admirer, invited them as special guests for their three shows at London's Hammersmith
Apollo. Musically however, to the uninitiated, they are more often likened to Nick Cave, Tinder-
sticks and Scott Walker.
AATT will present 'Born into the Waves' with live shows this coming spring:
01 Your Guess 02 Hawksmoor & the Savage 03 Winter Sea 04 Seasons & The Storms
05 The Sleepers 06 Bridges 07 The Bells of St. Christopher's 08 Naito-Shinjuku
09 Boden 10 The Skeins of Love
Weiterführende Links zu "AND ALSO THE TREES - Born into the Waves"