CHAKK - Clocks and Babies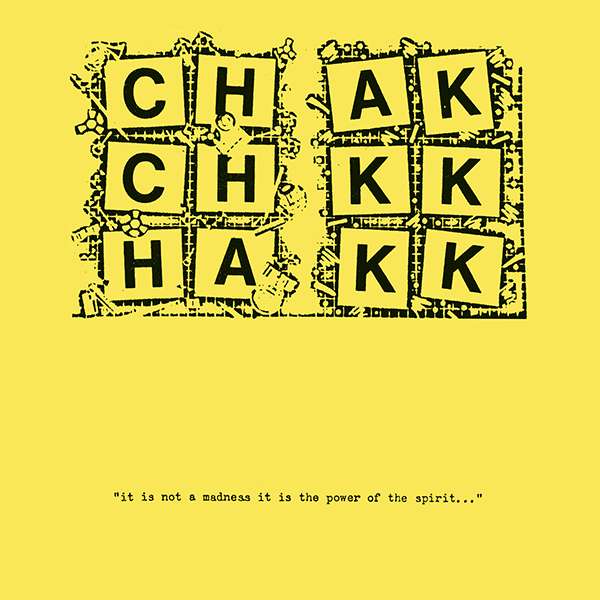 label: Klanggalerie, Februar 2016 label-info: Normal 0 21 false false...
mehr
Produktinformationen "CHAKK - Clocks and Babies"
label: Klanggalerie, Februar 2016


label-info:
Chakk existierten von 1981 bis 1987. Ihre erste Single, "Out oft he Flesh" wurde aufgenommen mit Richard H. Kirk von Cabaret Voltaire in deren Studio Western Works. Gemixt wurde sie von Bandmitglied Alan Cross, ein Mann, der gelernter Studiotechniker war. Chakks Originalsound wurde von Cross' 4 Track Tape Machine, einigen selbstgebauten Echos und Effektboxen, sowie seinem Studio bestimmt. Chakk waren immer der Meinung, dass das wichtigste Instrument für sie das Studio selbst war. Das erste album der Elektro-Funk-Band wurde 1982 von der Band selbst auf Kassette herausgebracht. Personal für dieses Album waren: Mark Tattersall (auch in Element/Transelement und Drummer für Cabaret Voltaire), Mark Brydon (Moloko, Hula), Sim Lister (Heights of Abraham), Alan Cross (DJ Alan X). Diese frühe Aufnahme, die fast niemand außerhalb der Band je gehört hat, zeigt jazzigere und funkigere Chakk als auf den späteren Fon Releases. Man könnte es mit frühen Cabaret Voltaire vergleichen, oder mit Hula, Clock DVA oder Industrial der ersten Generation. Das Album ist ein wilder Ritt an Stilen und Sounds. Ein fantastisches Zeitdokument und ein fantastisches Stück Musik. Remastert für diese erste digitale Veröffentlichung.
Chakk existed between 1981 and 1987. Their first single, "Out Of The Flesh", was recorded with Richard H. Kirk at Cabaret Voltaire's Western Works studio and mixed and engineered by Alan Cross, a member of the band who had studio training. Chakk's original sound was centred around Cross' four track tape machine, some home built echo and effects boxes and a small mixing desk. They had always believed that the most important instrument a band could use was the studio itself. The first album by Sheffield electro funk group Chakk was originally released as a cassette by the band themselves in 1982. Personnel for this album: Mark Tattersall (also in Element/Transelement, drummer for Cabaret Voltaire on various recordings), Mark Brydon (also in Moloko, Hula), Sim Lister (also in Heights of Abraham), Alan Cross (DJ Alan X). This early recording, unheard by most people until today, presents a much jazzier and funkier Chakk than later Fon releases. It could be compared to early Clock DVA. There's also a lot of Cabaret Voltaire here, some Hula, also some Industrial music. The album is one wild ride of styles and sounds. It's a fantastic document of its time, and at the same time a timeless and brilliant piece of music. Carefully remastered for this first digital release.
Weiterführende Links zu "CHAKK - Clocks and Babies"