GRAYCEON - All We Destroy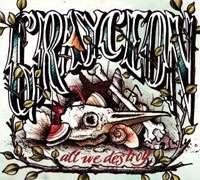 label: Profound Lore Grayceon is an atypical three-piece from San Francisco comprised of...
mehr
Produktinformationen "GRAYCEON - All We Destroy"
label: Profound Lore
Grayceon is an atypical three-piece from San Francisco comprised of electric cello, guitar, drums, and vocals. Pulling together an extremely diverse range of musical influences and writing styles, Grayceon's sound defies the boundaries of the metal/rock/progressive genres. Screaming melodic lines over distinct guitar "chunk," doom riffs, jazz chord progressions, intricate folk-like delicacies, and just about everything in between can be found in a single Grayceon track. The cello proficiency and the guitar finger picking style alone are unprecedented in heavy music. And although the vocals are sparse and the drumming unconventional, all elements are intertwined effortlessly to give the arrangements a fluid feel that may not be present in less able hands. Alternate low tuning both on cello and guitar also contribute to their unique sound. Since 2006, Grayceon have been recording and performing nationally, and have received critics' praise for their self-titled debut CD (Vendlus Records), their 7" split (The End) with friends Giant Squid (whom Grayceon have done a full North American tour with) and their sophomore release, "This Grand Show" which was released November 2008 (Vendlus Records). In 2010 Grayceon completed their first European tour with friends, Jucifer, and are prepared to release their third full-length album "All We Destroy" which is scheduled to be released on Profound Lore Records. "All We Destroy" is Grayceon at the height of their powers, their heaviest and most epic undertaking to date. An album that fuses the progressive metal tendencies of bands such as VOIVOD and the Norwegian avant-garde movement (i.e. VED BUENS ENDE) along with elements known to be found in doom/sludge metal, chamber music, and neo-folk respectively. Look for Grayceon to take their game up another notch in 2011 with, cellist/vocalist Jackie Perez Gratz' coming off her stirring and moving performance on the new AGALLOCH album "Marrow Of The Spirit", and with more live appearances respectively.
1. Dreamer Deceived
2. Shellmounds
3. We Can
4. Once A Shadow
5. A Road Less Traveled
6. War's End
Weiterführende Links zu "GRAYCEON - All We Destroy"