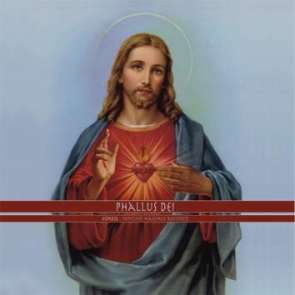 label: Dark Vinyl, 2005 Back to the roots for PHALLUS DEI, one of the most important German...
mehr
Produktinformationen "PHALLUS DEI - Osmose"
label: Dark Vinyl, 2005
Back to the roots for PHALLUS DEI, one of the most important German industrial & darkwave project of the 90ies! OSMOSE is a bombast-orchestral dark-ambient / industrial album that compiles material from the extremely successful PONTIFEX MAXIMUS-sessions, but all in NEW and previously unreleased versions and totally remastered. PONTIFEX MAXIMUS ( 1992) was a milesone in its genre and influenced countless artists. A timeless work of sheer beauty
GOTHTRONIC review : "Phallus Dei is a cult industrial act from the nineties in which a.o. the Dutchman Richard van Kruisdijk, also known from the trip-noir band Sonar Lodge, took part. Osmose is the comeback cd for this German group. On Osmose you will find 11 pieces of music from the Pontifex Maximus release from 1996 completely remixed and remastered, and these sound extremely varied, musical and at moments also very bombastic. Choirsinging increases in volume in the orchestral parts, always supported by electronics, but that is not where this ends. The compositions go further than many modern dark ambient or neo-classical project. They sound heavenly and classical, yet modern and sometimes even almost danceable. There are influences of Cabaret Voltaire, Clock DVA and Biosphere. On this release the Death in June cover ?Break the Black Ice? which could be found on the Pontifex Maximus release is not there, but you won?t miss that at all. Here it is quality what is offered. This is timeless music. " (9/10 points) -------------------------------------------------------------------------------------
einige Reviews bzgl. PHALLUS DEI : " wenn mich jemand fragt, was Darkwave, Electrowave, Neoromantik usw. ist ...dann spiele ich diese scheibe vor...denn PHALLUS DEI sind inzwischen in all diesen genres bestens zu Hause und erteilen nicht nur Zuhörern , sondern auch Musikern aus allen bereichen düsterer Indiemusik wertvolle lektionen." ( Joe Asmodo, ZILLO )
" ..this album brings images to mind of Phillip Glass or Gavin Bryars doing hardedged electronic music. Phallus Dei put a lot of time and creative effort into writting their songs and the payoff is an immaculate sounding and composed piece of artwork. The song construction is unsurpassed and their technical profiency make this easily one of the most powerful albums of the year..." ( Anon Devi , INDUSTRIAL NATION, US , Issue 11, 1995 )
"..Okay this is going to sound really weird, but... the vocals remind me of a combination of Billy Idol, Leonard Cohen, Pink Floyd and KMFDM.... This CD is monumental.. This band is monumental. An inviolate mixture of emotionally captivating dirges and malignant aggro / hardcore...and they cover a Charles Manson song "Circles On Circles"well, at least the lyrics are his,... My fovourite is "Unguided Love", lyrics courtesy of Edgar Allan poe. Samples include Jayne Mansfield (what a babe!) and some church-type guy, ranting about Jim Jones and the Jonestown Massacre ". ( LEVITY Magazin, USA, Issue No4, Spring 1995 )
"..the album PORNOCRATES is a mixture of rock, metal, atmospherics and delicately mournful ballads... What really makes the album are the flatly delivered narrations of Oliver St.Lingham above fatalistic, tearjerkers such as "On Aloneness" and "Veiled Statues" ..". ( Mathew F.Riley, MFTEQ, UK, Issue 11, 1995 )
" ..an insidious wave of dark visions slowly begins, rising with each track as Pornocrates builds its momentum over the course of 13 cuts. The deep vocals of Oliver St.Lingam whispering to you like a sinister drug dealer offering a sample of his wares. The drug takes affect in the third track, "The Arising", hitting you hard with a punk-ish delivery of metal. But then Phallus Dei take you on a rollercoaster ride through the rest of the album with tracks alternately moving at heartbeat to heart attack rates. The title cut is offered in the "Bloodlust a Go-Go" version and is prime stuff, as is "The Outer Bone" and "Never To Believe". The wonderful metal side of Phallus dei, however, is offset by the quieter passages of piano and string compositions like "Insignificance" and "Veiled Statues". Another must-have. " ( kh, ARC Magazin, US, Issue 5, 1995 ) " ..this is soundtrack music for the week you were to broke to refill your prozac prescription. If you`re not too depressed at the initial listen, you will be by the time the thirteenth track comes to its melancholy close." / E.S. , MANIFOLD Magazine, USA, Issue 6, 1995 )
Weiterführende Links zu "PHALLUS DEI - Osmose"