THE PCP PRINCIPLE - Rhythmus ex heretica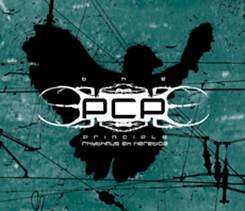 label: HANDS , November 2010 Short Product Info : -...
mehr
Produktinformationen "THE PCP PRINCIPLE - Rhythmus ex heretica"
label: HANDS , November 2010
Short Product Info :
- Symphonic Rhythm'n'Noise trifft es wohl am besten was R. Challenger aka The Pcp Principle auf seinem zweiten Album zelebriert: eine atemberaubender und frischer, bisher nie gehörte Mischung aus hartem clubtauglichen Rhythm'n'noise und klassisch angehauchten Filmsoundtrack.
- Elekronische Flächen treffen auf Streicher Ensemble sowie kickende treibende Electro Industrial und Rhythm'n'Noise Beats und erschaffen 11 knallige Clubtracks die zugleich äußerst emotional geladen sind.
The PCP Principle returns with his second album - a crushing blend of grinding beats and epic, cinematic arrangements unlike anything you will have heard ever before! Probably Symphonic Rhythm'n'Noise should be the style name for the sound of R. Challenger aka The PCP Principle on - 'Rhythmus Ex Heretica'.
An astonishing and fresh mixture of absolute club orientated rhythm'n'noise beats and soundscore. Electronic sounds meet symphonic strings and powerful kicking electro industrial beats to create 11 club smashers, full of deep emotion. More aggressive and complex than the debut album 'Electronic Violence Phenomena', yet emotionally impacting and awe inspiring at the same time; the focus of the album being philosophy and the failings of human belief systems.
This album is sure to tear up the dance floor as well get your emotions racing and your mind contemplating.
Tracks:
01 Annihilation is the only Option 02 Sanctifiction 03 Disanthropy 04 Apocalypse when? 05 Flatline 06 Tiny Minds 07 A glorius Moment of Horror
08 Nothing to Me 09 Flx 10 The Spiderheart 11 Travesty
Weiterführende Links zu "THE PCP PRINCIPLE - Rhythmus ex heretica"