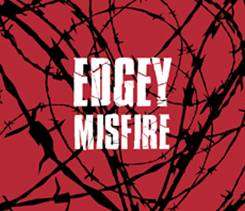 label: HANDS , November 2010 Short Product Info : ...
mehr
Produktinformationen "EDGEY - Misfire"
label: HANDS , November 2010
Short Product Info :
- Das langerwartete neue CD von Edgey ist ein aufregendes und wegweisendes Album im Schnittbereich zwischen harten Breakcore, Drum'n'Bass und IDM geworden.
- Auf Misfire schleift der New Yorker Künstler Stephen James Knight aka Edgey aus den Rohdiamanten Härte und Noise Elementen des Albums >Square form Annihilations< sowie der kickenden und treibenden dominierenden Beats des Vorgängers >Flawed< einen strahlenden Diamanten am Drum'n'Bass Himmel.
Taking the techy, aggressive powernoise of 'Square Form Annihilations' and the cleaner more methodical beat-driven styling's of 'Flawed', EDGEY delivers his third and long awaited full-length release on HANDS. No stranger to conflicting sound design; EDGEY's 'Misfire' explores the dichotomy of rough and powerful noise with the smooth and methodical structures of breakcore-oriented drum'n'bass and idm. EDGEY's latest release is as dangerous as a misfire.
It's storm full of energy and roughness and for sure he is one of the brightest stars in the breakcore-drum'n'bass universe.
Stephen James Knight AKA EDGEY is a New York based electronic music producer, writer and artist working in the veins of Drum'n'Bass, idm, breakcore, Noise and Industrial for over 15 years, cataloguing a respectable number of releases in each of the varying genre's, and continues to help shape the soundfor the future.
Tracks:
01 Before the Storm 02 Terminal Accretion 03 Stress Failure 04 Drown 05 Chaosbane 06 Treatment 07 Left Wanting 08 Trouble Horizon 09 I become 10 Revenge 11 Floor Crank
Weiterführende Links zu "EDGEY - Misfire"