5F-X - Flightrecorder 5.0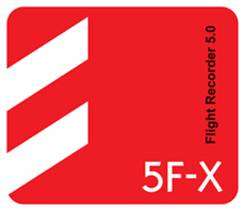 label: hands, November 2010 label Info : -...
mehr
Produktinformationen "5F-X - Flightrecorder 5.0"
label: hands, November 2010
label Info :
- Das neue Album setzt dort an wo 5F-X mit ihrem letztem Album >The Xenomorphians your Friendly Invasion< aufgehört haben: treibender, frischer und clubtauglicher Electro Scifi Tribal Industrial vom Feinsten.
- Knallende Beats treffen auf die 5F-X typischen mechanical lofi Space Sounds sowie Funkspruch-Recordings und verbinden sich zu einer magischen Energie wie man sie sonst auch von 5F-X Live Shows kennt.
- Liebe Erdlinge dies sind reale X-File Aufnahmen – das ist kein Test!
This new and 5th album of 5F-X continues where they left off with 'The Xenomorphians your Friendly Invasion', powerful club-oriented electro sci-fi tribal industrial at its best. Flight Recorder 5.0 offers 8 new tracks and 2 remixes of tracks you probably come in contact with in the clubs. Typical powerful beats meet electronica sounds, lo-fi sci-fi sounds and radio messages. Some of these messages are difficult to understand, but we were able to record things such as files of the pulsating audionautic sequence controller - 'a.s.c.- epsylon' become an announcement of impending groove-quakes during the flight recordings. Giant wobbles stalking the com traffic, assimilating everything in its atmospheres. With a 5F-X crewmember working the controls, the satellite FX-5 in flight traffic-scanning mode reached down to update the xenomorphian invasion coordinates. Powerful, melting rhythmic styles catch the pilots and hypnotize their feet. The 'Crowdscanner 5000', capable of scanning through any life form synops… Did you 'get' it?
Tracks:
01 Audioautical-file.001 02 Audioautical-file.002 03 Audioautical-file.003 04 Audioautical-file.004_Sountox Remix 05 Audioautical-file.005 06audioautical-file.006
07 E.d.d.y.-scope.007_Flight Recorder Remix 08 Audioautical-file.008 09 Audioautical-file.009 10 Audioautical-file.010
Weiterführende Links zu "5F-X - Flightrecorder 5.0"