ROZZ WILLIAMS / PREMATURE EJACULATION - Part II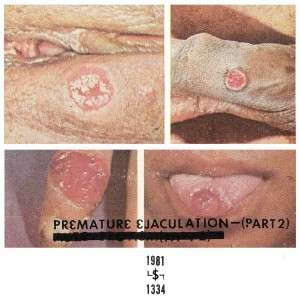 PREMATURE EJACULATION "Part 2" 2CD (CatNr: MAL2)...
mehr
Produktinformationen "ROZZ WILLIAMS / PREMATURE EJACULATION - Part II"
PREMATURE EJACULATION "Part 2" 2CD (CatNr: MAL2)
Background
Premature Ejaculation - (Part 2) is a more interesting and well put-together recording than its predecessor. Although far from perfect, it is clear that Rozz was learning his art and developing techniques that he would continue to use throughout the rest of his career.
Track listing
Premature Ejaculation - (Part 2) consists of a long sequence of untitled tracks (from 1981). Since the original cassette recording featured few, if any, distinguishable track breaks we felt it important not to arbitary separate each single piece of music for the cd release. Rozz had obviously intended for the music to be enjoyed as a continous listening experience rather than for each piece to be listened to in isolation. This would not be the last time that Rozz used such tactics. Premature Ejaculation - (Part 2) also incorporates the use of samples and there is some vocalisation and spoken word sequences. We have included bonus material dating from 1982 which are selections by Rozz and Ron from various vinyl recordings.
Artwork
The original cassette sleeve for Premature Ejaculation - (Part 2) survives and is in the possession of John Collins. It must be noted that Rozz did not actually make the cassette sleeve in 1981, since he did not start using the year 1334 in his artwork until the early 1990's. Rozz had at one time titled the cassette Auto-Erotism (Part 2) but scored this off the front cover with a heavy black marker.

Rozz Williams - The Lost Recordings

"I've always been a great believer in provoking a reaction. I would rather make a record that is loathed by ten people than one which is ignored by everyone; I'd rather play a show which the audience walks out of en masse, than one they just stand around and talk through."
( Rozz Williams )
Introduction
Rozz Williams was the internationally renowned vocalist of legendary deathrock bands Christian Death and Shadow Project.
His name is synonymous with the gothic rock scene. Christian Death's debut album Only Theatre of Pain gave birth to deathrock in America and continuesto influence bands today, while Shadow Project's Dreams for the Dying album was described by one critic as the most evil record ever recorded.

Although Christian Death and Shadow Project helped build Rozz a large and dedicated fanbase, he himself did not want to be restricted either to the gothic genre or to standard musical structures in general. In fact two years after forming Christian Death in 1979 at the tender age of sixteen,and well before he had even entered a studio,
Rozz was already working with performance artist Ron Athey on his first experimental recordingsand been banned by local clubs for terrorising audiences . Raw to the extreme, these recordings and many that followedwould never be released in his lifetime or indeed even in the years since his untimely death on 1st April 1998.

The story behind the forthcoming releases:

I'd like to introduce myself as I am behind the forthcoming series to restore and release Rozz's old lost 'experimental' recordings.
At the end of last year, Ryan Gaumer, whom I had met in Paris in the Spring of 2007 at an exhibition of his artworks, contacted me and offered to sell me his share of Rozz's original, unreleased Premature Ejaculation cassettes. He knew that not only was I a very keen collector, but that I am a major contributer of material to the official Rozz site, Rozznet, and also a moderator on the premier Rozz forum 'The Land of Rozz'. As such, he believed that I would not only treasure these valued cassettes, but also be in a position to make the music available for all other fans to hear.
While making initial investigations, a further eight original cassettes have also been located and are now with Ron Marrs, the Rozznet webmaster.
Like Ryan, Ron has confirmed that he is more than happy for those recordings to be included in the project.I have also contacted Chuck regarding my plans and he has given me his full support for the project, and permission to include those particular HPOE releases that featured Rozz. The remaining titles are sourced from copies made by my good friend Andreas Hofmann from Rozz's original tapes. Those original tapes have not been located.
A lot of the PE and Heltir material has not been released before. I know that there have been attempts in the past to release some of this rare material though Malaise Media and Malaise Music but without success. I realise that it is impossible to please everybody, but my intentions on this are real and sincere. I like the idea of calling this Rozz Williams - The Lost Recordings, and it will just feature Rozz's 'experimental' projects.
It is a fan project with the purpose of making a professional quality product of Rozz's long lost PE and Heltir tapes for those who have always wanted to hear them.
There will not be any real mass promotion and of course all material that has been sold commercially will not be included in the project.
The material is to be remastered with each cd professional pressed.
The original cassette sleeves (where they exist) will be modified to fit standard jewel cd cases and each will be professionally printed.
We are sourcing all material from Rozz's original cassettes, where available, otherwise using first generation copies.
My sole intention is to make available this long lost material to those who want to hear it. Being such a fan and collector, I can assure you that there
is a great attention to detail in the remastering and restoring processes, and I feel very happy to help make these historic lost recordings available for fans to hear.
We'll keep you updated and we'll share some of the artwork and sounds when they are ready. best wishes. (John Collins)


Weiterführende Links zu "ROZZ WILLIAMS / PREMATURE EJACULATION - Part II"