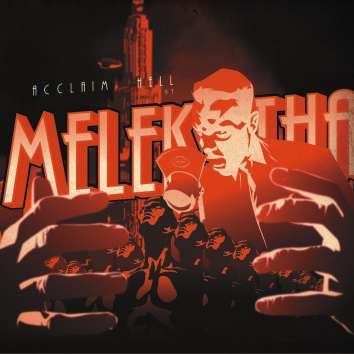 label: Dark Vinyl 2007 ; file: Apocalyptic Black Industrial MELEK-THA feiern 10 jähriges...
mehr
Produktinformationen "MELEK-THA - Acclaim Hell"
label: Dark Vinyl 2007 ; file: Apocalyptic Black Industrial

MELEK-THA feiern 10 jähriges Bandjubiläum mit einem finalen Album : ACCLAIM HELL.

Nach dem eher noisigen Vorgängeralbum (DECIMATION WORLD) haben Melek-Tha nun zu dem zurückgefunden was sie am besten können: Rythmischer / Martialischer Industrial mit sonorig grollenden Chorälen unterlegt, vorangetrieben von einem wuchtigen Wall of Sounds. Kommt ausgesprochen dynamisch herüber, und würde den perfekten Soundtrack zu Filmen wie SIN CITY 2 oder SAW 3 abgeben.
Meiner Meinung nach haben MELEK-THA wieder zu ihren Stärken zurückgefunden und ihr seit langem bestes Album abgeliefert.

Melek-Tha celebrate their 10 year anniversary with their final release ?Acclaim Hell?. Melek-Tha stands for bombastic black industrial and apocalyptic death music. After their last, more noise and post-industrial oriented album from 2005 (Decimation World) Melek-Tha now buries you under a massive wall of sounds with more orchestral elements, added by symphonic chants and rhythmic beats. This is the perfect soundtrack for movies like Sin City 2 or Saw III. Welcome to hell!

review GOTHTRONIC (May2007): " Intense; that's what Melek-Tha' s new album called Acclaim Hell is. It sounds as if an unstoppable war machine is being released upon your body and it will not stop pounding on you until this 70 minutes long album is finished. This French noise project by our beloved and talented friend Lord Evil is quite interesting. Pitch black industrial/noise combined with war samples, rhythmic beats and even ambient and martial elements are blended into an unique whole. While opener and title track Acclaim Hell has a chaotic noise structure the songs called Corpse Under The Robotik Bulldozer and The Hidden Fractures (Destroy All Human Kind) has a more industrial/martial approach. Luckily, there?s a moment of rest in the utterly dark and enjoyable The Cyclic Rise & Fall Of Civilization which has an ambient based structure. Acclaim Hell has become an impressive powerful well thought trough and very diverse album. Together with the excellent movie-poster like artwork, which fits in the general feeling presented by Melek-Tha, makes this album a must-have for freaks of the genre. "
Weiterführende Links zu "MELEK-THA - Acclaim Hell"